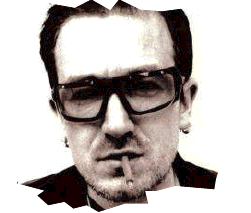 Bono was born on May 10, 1960, just 4 days after the U-2 spy plane incident. His real name is Paul Hewson. Born in Dublin, he lived in a section of the city named Ballymun. Bono's father was Catholic and his mother was Protestant. His mother died on September 10th, 1974. Bono would always be affected by her loss and he would later write songs about it, including "Tomorrow", "I Will Follow", and most recently "MoFo".
Bono and his dad and Norman didn't get along real well. Bono started hanging out with Fionan Hanvey, also known as Gavin Friday, and the Village. (Sometimes called Lypton Village) The Village was a group of kids trying to rebel against the norm. They gave each other nicknames. Paul Hewson became "Bono Vox", named after a hearing aid store, and which also means "Good Voice" in Latin.
It was the autumn of 1976 when Bono noticed and answered a note on Dublin's Mount Temple Comprehensive School's noticeboard. The note had been posted by Larry Mullen Jr., a drummer looking for guitarists for a new band.
He married longtime girlfriend Alison Stewert in August of 82. They have two girls, Jordan and Eve. Jordan was born on Bono's birthday - May 10th, 1989, and Eve was born July 7th, 1991. After playing Live Aid in 1985, Bono and Ali spent five weeks as volunteers in Ethiopia, which is rumored to be his inspiration for Where the Streets Have No Name.
The Joshua Tree and Rattle and Hum had made Bono into a superstar and on the last night of the 80s he knew things had to change. Bono and the band returned bigger than ever in November of 1991 with their album Achtung Baby and their ZooTV tour which began in February of 1992. In recent years, between the end of ZooTV and their new album POP, Bono has finally gotten his song for Frank Sinatra out in the open.
In Frank's 80th Birthday bash "Two Shots Of Happy (One Shot of Sad)" was unveiled with Edge on the guitar and an orchestra accompanying him. Bono also wrote "Miss Sarajevo" with Luciano Pavarotti assisting on vocals.