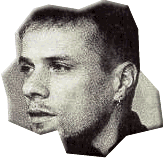 Larry Mullen Jr.
Place of Birth: Artane, Dublin, Ireland October 31st, 1961
One son, Aaron Elvis, with his long time girlfriend, Anne Acheson.
Important Dates: November, 1978: Maureen Mullen, Larry's mother, is killed in a car crash. May 1st, 1996: Releases the remake of MissionImpossible theme song. Larry Mullen Jr. is not only the youngest member of the band but probably the most important member. Larry was the one who posted the notice on the school bulletin board looking to start a band and what a band he created. Larry is the band drummer and has been since the start. His being the sort of founder of the band has played out through U2's history such as during the War tour when the band would finish off with the song "40" they would each finish off and leave separately leaving Larry as the last a symbolism of the start. Still not being in the spotlight has not kept him from doing other projects one of the more recent major projects would be the remake of the Mission Imposible song for the movie Mission Impossible starring Tom Cruise. Larry did the remake with Adam Clayton and an orchestra.